Roku Netflix box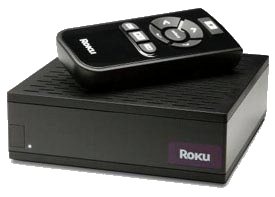 I've been a Netflix subscriber for most of this year now and it's a great service. But what's turned it into an awesome service is that box in the picture over there. That's the Roku Netflix player and it rules so much. It lets me stream 10,000 or so TV and movie titles over the internet and onto my TV. Not new releases so much, but plenty of really great old stuff. All that's required is that I keep my Netflix account. The quality of the movies is just as good as DVD and looks great on my 26″ LCD. I've heard that they're going to start offering HD content soon, but I don't even care. I'm happy with it the way it is.
This thing makes me even happier than I ditched 100% of my DVD collection last year. And I'm sure the service is going to just keep getting better, especially once Blockbuster releases their own TV box later this year and they have to keep up with the competition.
I'm surprised stuff like this isn't bringing the cable TV rates down. I haven't had anything more than the basic network cable for the past year, which I never watch. I only keep it because of the promotional thing I'm on with Comcast makes it cheaper to have cable with my phone and internet than to not have cable at all. Last week the promotional thing ran out, so I called them once again to cancel my cable TV and they set me up with another promotional thing so it's cheaper to keep my cable. They desperately want me to have cable TV. Speaking of cable TV, look at these girls. I want to punch them both.
My Netflix queue is down to 15 movies now. It's been consistently over 100 movies ever since I had it, as I've been copying just about everything that's come in. But I'm almost finished with building my collection. After that I'll be moving to the $8.99 plan on Netflix, which will make my Roku box even more awesome because it'll be crazy-cheap. Wonder how many months until my personal digital movie collection is rendered completely useless because the Roku box will stream everything Netflix has.