---
Friday, 8-1-2003: Took the kids to school and worked during the day. Went on a date with Tricia around 5pm. We went to Union Station and looked around all the stores, went outside and hung around the fountain for awhile, took the train to the Landing and did some shopping.
---
Saturday, 8-2-2003: Got up around 8:30am and worked for a few hours. Then me and the kids went to Jamestown to see Spy Kids 3D, ate McDonalds there and they played on the slides. Came home for awhile and I mowed the lawn. Then we went to Wal-Mart to buy Emily's school supplies.
---
Saturday, 8-09-2003: Worked on my room a bunch. Me and Tom went to Lowes in his truck and got me some more drywall. Finished ripping out my closet and did some drywalling.
---
Sunday, 8-10-2003: Took the kids to Colleen's first thing in the morning. Came home and worked on my room remodeling for most of the day. Got drywall put up and lots of patching done. Here's some pictures of the progress: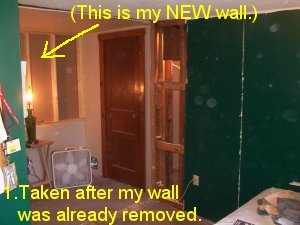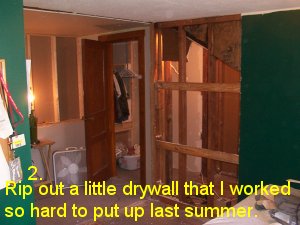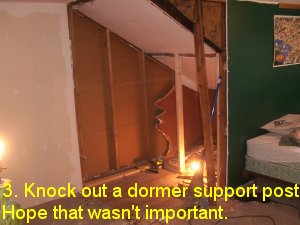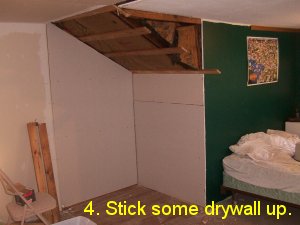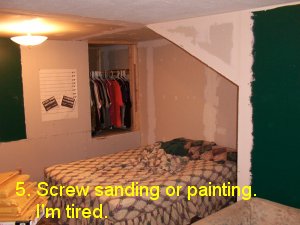 Keep in mind, the closet door you see was actually outside of my room when I started this on Tuesday. There was a whole other wall to my room there which I removed without taking pictures first. So the size of my room is considerably bigger now. Now when I get out of bed in the morning, I'm "coming out of the closet." HAHAHA, I KILL ME!
---
Thursday, 8-14-2003: Kept the kids home today. We went and got donuts for breakfast, then Alex and Allison came over to play with them and I worked until about 4:30pm. Angie stopped by to drop off her laptop for me to look at and Colleen picked up the kids at 5:30pm. Spent the rest of my evening, working on some wiring in my room. Got a new ceiling light and light switch put in. Then did a little more drywalling.
---
Friday, 8-22-2003: Me RijilV and Tom went to the Waffle House for breakfast/lunch. This is the very same waffle house that was featured in
PLA099
. The employees there don't realize it but they work at an historic PLA landmark.
---
Saturday, 8-23-2003: Me, RijilV, Tom and both kids went to the City Museum for the day. Got there around 11am and stayed until maybe 4pm.
---
Monday, 8-25-2003: Came home and worked all day. Me and Tricia went to Jamestown Mall at 5pm. Walked all over the mall, then saw the movie SWAT. Bought a new laser pointer at Sam Goody to torment the cats with.
---
Wednesday, 8-27-2003: Me and Tricia were both kidless so we decide to drive to Indiana and stay a night. We were going to go to Indianapolis but decided to stop an hour earlier in Terre Haute instead.
---
Thursday, 8-28-2003: Left Indiana around 10am after we browsed at a book store for awhile. Got back home around 1pm.