---
Tuesday, May 4, 2004: Went geocaching today with Spessa & Co. Then after her kids got home from school we went to another geocache so the kids could participate, which they really enjoyed. Unfortunately there aren't a lot of caches in this area. Maybe a total of 5 of them that are within an hour. Had some pizza for supper.
---
Wednesday, May 5, 2004: Went Geocaching again today, this time without the kids. Managed to find one but failed at another since the road ended up being blocked. Turns out we were supposed to take a completely different road but it was getting late so we just went home and decided to maybe try again tomorrow.
---
Thursday, May 6, 2004: At some point, we all decided that I'd be spending the rest of the week in Montana instead of just one night. So I'm thinking I'll probably leave tomorrow morning before noon or so. It's still another 30 hours from here to Alton, Illinois and I think I'd prefer to do all that driving over a weekend instead of during the week. Last night was fun – we stayed up until 1am making calls to various Motel 6's, posing as the front desk by doing wakeup calls, making sure their clocks were set right and asking guests if they wanted some more towels. Getting woke up in the middle of the night for things like that doesn't appear to set well with most guests. This will be useful information to have if I ever get a job as a hotel front desk clerk so it was a good learning experience.
---
Friday, May 7, 2004: Left Montana at about 9:30am and drove all day. Stopped somewhere past Casper, Wyoming and slept until 7am. Or 6am. Or maybe it was 8am. All of my clocks are set on different time zones so I'm all confused. Spessa wrote "Don't cry for me Argentina" on my back window before I left. This entertained me for most of the drive because everyone who passed my car was staring at me, looking confused. As soon as I would look over, they would quickly look away.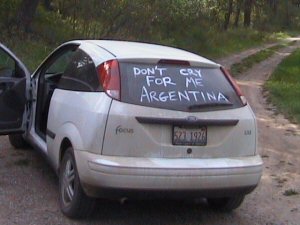 ---
Saturday, May 8, 2004: Finished driving back to Illinois. Finally got home at 11:15pm.