Sunday, May 2, 2004: Took the kids to McDonalds for breakfast, spending my last $10 in cash. The hotel charged an extra week to my debit card which took my debit balance down to $14.00. They credited the weekly thing for me but it's going to take probably 4 days for that money to appear back in the account. So I'm going home today and I have no money! I was supposed to drop off the kids around noon but nobody was home when we attempted that. So we hung around parks and the mall most of the morning, just killing time and waiting for somebody to get home. EvilCal was nice enough to send me $12.00 from his PayPal account to me. Then he made a post on the forums, demanding that everyone pay their hosting fees. Yauch immediately sent me $60.00 which I took out of the ATM for the kids' lunches. The remaining $50.00 should get me halfway to Illinois.
After saying goodbye to the kids, I drove to Heywood's house in Portland. Me, him and several friends of his drove all over the city being extremely immature for the rest of the evening. We hax0red all the computers at Circuit City, played on overhead intercoms at Wal-Mart and Fred Meyer (until they told us to stop) and videotaped the Dash For Cash prank at a few supermarkets.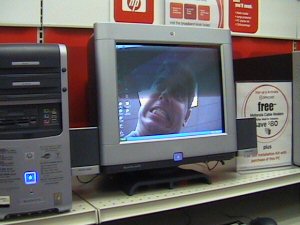 ---
Monday, May 3, 2004: Woke up at 7:00am after a night on Heather's couch and left for Illinois. Decided to make a pitstop in Montana to see Mr. & Mrs. Spessa. So that was about a 12 hour drive. My GPS program instructed me to take Highway 4 to their house after I got off the interstate since it was the most direct route. After 30 minutes of Highway 4, most of it dirt, it ended in a big pile of snow. The "road" looked more like a dirt trail going up a mountain. Luckily I was only 30 miles off of the interstate so it wasn't much effort to drive back to the interstate and find another route. I ended up at Spessa's around 10pm or so.