January 2004 Entries
Saturday, 1-24-2004: Did a lot of nothing all day. I don't have the kids all weekend so I'm bored. I worked on my bathroom a lot, something I've been neglecting for a few years. Finished up a wall and ripped out the old wall. Tonight me and Tricia went to see Rent at the Fox Theater in St. Louis which was good, but would have been better if we were sitting closer. Next time we spring for good seats.
---
Sunday, 1-25-2004: During the night there was an ice storm so everything outside is covered with a sheet of ice. It took me 15 minutes to get the ice off my car windows so I could go get a McGriddle. I stayed in pretty much all day after that, doing a lot of updating and fixing of
phonelosers.org
, mostly to the
links page
. In the afternoon I went to pick up Tricia from work which meant another 15 minutes of chopping the ice off my windows since it's been raining all day. We went by Taco Bell for some supper and I snapped a picture of the manager after he gave me my food. Here's the picture: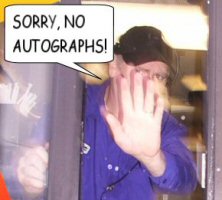 ---
Wednesday, 1-28-2004: Emily got out of school early today. Neither me or Colleen knew about it because the previous 2 days were snow days. So Emily was put into the after school program and I picked her up an hour later. Me, her and Casey went sledding for a few minutes at Vanprater Park, then came back home.
---
Thursday, 1-29-2004: After work, I set up a streaming PLA radio thing to play pranks on. Went to Tricia's and we made a cardboard box car for Jordyn. Then I drove to Brighton to see what cars were parked at Zach Peters house. None. I ended up getting slightly lost and went to Jerseyville first. Today I did a lot of phone searching for Zach. I'm trying to figure out where he's working. I took Purry to the vet today to have his tail looked at. He got into a fight with something. They recommended it be chopped off! So I'm going to pick him up tomorrow and he won't have a tail.
---
Friday, 1-30-2004: Picked up the kids from school and took them sledding. Payton only rode down the hill once and I think Emily did 2 or 3 times. It was freezing out but I wanted to take them since tomorrow is supposed to be even colder. We had pizza for supper with Tricia and Jordyn.
---
Saturday, 1-31-2004: Stayed home all day with the kids. Bonnie brought Christian over around 10:30am or so and I kept him all day & night. We also had Ryan over a lot during the day and Jordyn, Chelse and Keirstan. So the house was pretty full and noisy. Gina stopped by to pick up a computer and drop off her own.