My 2000 Ford Nova
A couple weekends ago I was at a flea market in Eugene and happened across a metal Nova emblem that goes on the back of an old Chevy Nova for $3.00. I thought, "Gee, this would look awesome if I put it on the back of my 2000 Ford Focus! It would cause at least a few instances of WTF from passing motorists who happened to notice it." So I bought it. And tonight I finally scraped the plastic Focus lettering off the back of my car, drilled a couple of holes and hammered it permanently into the hatchback.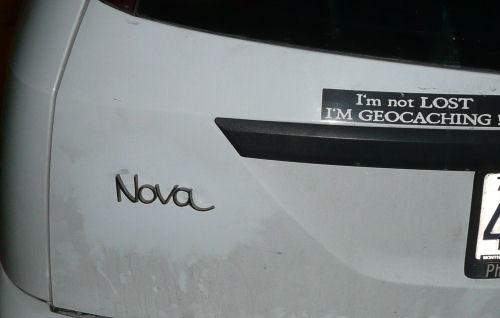 You can still see traces of the word Focus under it, but I plan to blast those away the next time I end up at the car wash. This is how I spend my Friday nights.
This week I'm really loving Silly Really by Per Gessle and We Made You by Eminem. I know I'll get sick of the Eminem song eventually, as I do with most of his hits. But for now it's hilarious.