Halloween Weekend
Friday: Jessica and I headed to Salem to go to a haunted house. On the way, decided to give Rocky Horror a try too, so called Kate and got directions to it. Before we got there, Angela called to tell us both shows were sold out. Stopped by a bar for food and drinks. Left after 1 drink cause the food menus sucked. Went to McMenamins instead to eat, then to The Nightmare Factory for the haunted house.
It was a standard haunted house – giant maze with people jumping out at you all the time. We took a few deliberate wrong turns, just for fun. Ended up in a back hallway at one point, where we weren't supposed to be, and could stick our hands out through the walls and scare people. We ended up coming out of a hole under a desk/table thing. Found an empty room later that we hung out in for about 15 minutes, jumping out at people as they came in. After the haunted house we went to a bar in Albany and listened to horrible karaoke renditions of old country songs and played tons of pool.
Saturday: Tried to sleep in, but failed. I don't know why I can never sleep very late. Hung out around the house most of the day with the kids. Made some Halloween cookies around noon and they ended up being our lunch. At 6pm, they dressed for trick-or-treating and we drove to a neighborhood that Jessica recommended. It was awesome – hundreds of kids walking around in the streets. Much more active than our own neighborhood. Went around a few blocks there, then headed home. Would have stayed longer, but Emily hasn't been feeling that great. Left her at home while me and Payton hit up all the houses in our own neighborhood.
Got quite a few submissions these past couple of days for the PLA pumpkin carving contest. I'm surprised at how much effort some people put into it.
Sunday: Went to Salem to see Up at a ridiculously cheap movie theater, only to find out that it was sold out. So we bought tickets to Harry Potter 6 instead, which started an hour later. I hadn't seen it yet, but the kids had. They both really wanted to see it again. The theater was awesome! There were long tables in ever aisle to set your food and stuff on, which meant tons of feet space. In the very back aisles there were reclining chairs instead of movie theater seats. There was a full bar in the lobby. The theater does all kinds of non-movie things like football games and comedy shows. Definitely gotta go back there someday.
Since we had an hour to kill, we walked across the street and I noticed we were in front of the same bar Jessica and I were at on Friday. Walked over to an ice cream place and hung out for about 30 minutes.
As long as I'm doing several days of updating here, I should mention Wednesday. I didn't have much food in the house and didn't feel like going shopping, so we went out to eat at Applebees. Turns out Wednesday is kids night there. You'd think that would just mean low prices for kids food, but not here. They had a magician going around to all the tables, doing tricks for everyone. He did tricks for us as we sat there and waited for a table, keeping us there for an extra minute or two after our table was ready. Then he came over and did card tricks while we were trying to eat food. It was annoying, but funny. They also had a giant table set up to decorate mini pumpkins, which the kids did for about 20 minutes after we ate. We'll definitely have to try Wednesdays there again someday.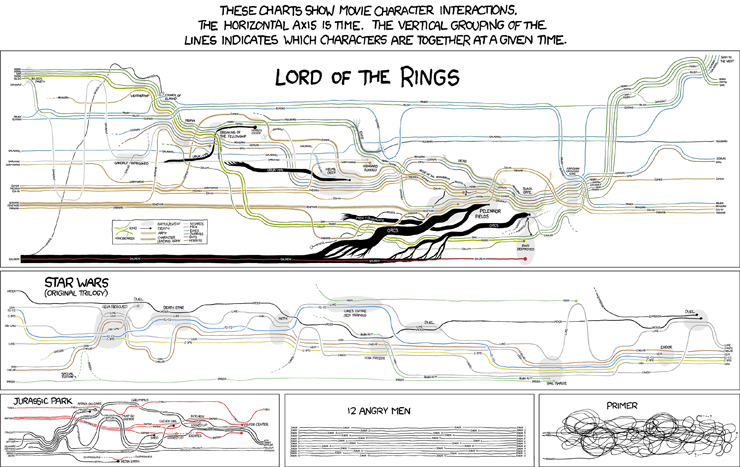 Man, xkcd.com has been doing amazing stuff lately. But that image up there, that's just insane. Click on it to view the full sized version of it. I want to know how long those took him. And the Primer one cracked me up – I just happened to see that movie last year when Netflix recommended it to me.