Geostalking, Windshields, Flash mobs, Karaoke…
I think it was Thursday 2 weeks ago that I decided to help out the people trying to sell their cars on the side of the road by writing catchy slogans on their windshields. They like to park them on a busy highway next to my house with FOR SALE signs on them.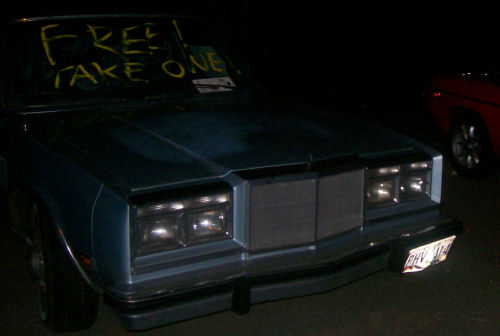 I can only assume my first attempt at helping out worked, because the car was gone about 24 hours later. It might have had something to do with the cops ticketing their cars too since apparently it's illegal to park your car there. People do it all the time, though, so I'm sure I'll have plenty more opportunities to try and help out.
I think Thursday might have been the same night that I came up with the brilliant idea of stalking Foursquare users. Foursquare is a service that lets you use your cell phone to "check in" everywhere you go. It annoys your friends on Twitter and Facebook by posting your check in updates. Like "LOOK AT ME EVERYBODY, I JUST ARRIVED AT ROY'S TAVERN!" I tried it out since I'm addicted to social networking sites and my first thought was, "Wow, this is stupid to check into places because the type of people I know are the type of people to call these businesses and have them page me." It's happened to me plenty of times before, long before Foursquare existed.
So I started calling up places around the country that people check in to and having the Foursquare users paged so I could say silly things to them. I recorded the calls and they can be heard at www.phonelosers.org/stalker/. My favorites are I'm From The Future and Red Cross Telemarketing. There's now a board on the PLA Forums dedicated to calling up Foursquare users. Several bloggers have written giant, complainy posts about my calls, one of them vowing to shut down the PLA forever. It's been a lot of fun so far.
I went to Chasers later to tell Jessica and Anne about all my craziness that night. I still had the window paint in my pocket, so I ended up writing on a few more car windows as we left. The van outside the bar got FOUR SAIL on it.
FRIDAY we went to Geeky Karaoke in Portland again. This time it was me, Jessica and Kelsie. Me and Jessica started drawing on each other and soon the half the tables were drawing all over each other. Here's the Facebook album. We sang My Own Worst Enemy and Don't Stop Believin'. Both times we were introduced as Roy Gerbil and The Atlantas. On the drive home we kept stopping and writing on car windows. We wrote random, crazy things and then we wrote FOR SALE on a few along with my phone number, hoping the angry owners would call and yell at me for trying to sell their car. Turns out I can't remember my phone number when I'm drunk though, so we accidentally put someone else's number on them.
Saturday the kids and I went biking/geocaching. We went about 5 miles and found 3 or 4 geocaches. I think Sunday we hung around the house all day. Looks like awesome weather tomorrow so we'll probably do some more of that.
Somewhere in between all this, the kids and I went to see The Imaginarium of Doctor Parnassus at Corvallis' Darkside movie theater. It was our first time visiting that place. A very cool and bizarre independent theater. And the movie was nuts.
This past weekend, Angela and I went to some weird photography event in Salem. About 60 people showed up and our orders were to walk all over downtown Salem and take as many pictures as possible. We only took a few before quitting and just browsing random stores, geocaching and eating in a downtown bar. Then we went to a film festival at Northern Lights. It was like paying $3.00 each to watch YouTube videos. I'm not complaining, because we had a good time there, but the movies were pretty bad. They were fun to make fun of though.
On Tuesday, Evilgold and Evie visited me. They were passing through Albany on their way to Portland from California and timed it so they could do The Phone Show with me. That was a lot of fun. Apparently they stole my porch light before they left.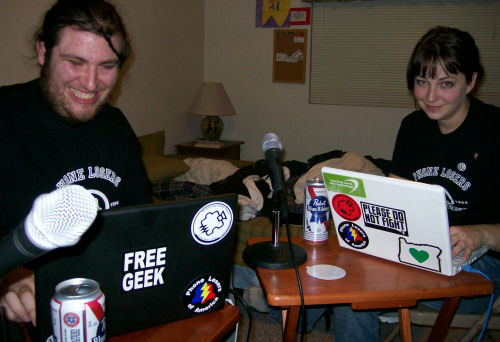 On Wednesday I met Cecelia and we went to Salem for a flash mob, but we were late and didn't make it to the mob. Missed it by about 10 minutes. It was a pretty lame flash mob, though, involving about 100 people singing Singing In The Rain. It wasn't even raining. Salem was more active than I'd ever seen it before – I guess it's an event they do every week or month. We did a little downtown geocaching, had some food and just walked around a lot. I checked into the bar we went to on Foursquare, just to see if anyone from the PLA would call me. Apparently someone tried, but they we'd already left.
Tonight should be fun. I'm going to 2600 in Portland. Evilgold and Evie will be there. A guy who calls The Phone Show a lot will also be there, since I owe him some buttons and stickers from the game show he won. After 2600, we're going to attempt to do some Foursquare stalking in person. Surbo and me came up with an idea to turn this into a game, where we drive to a place that a person checks into, find the person and confirm with them that they're the Foursquare user. Kind of a combination of Foursquare and Geocaching. I'm not sure if people will like being found or if I'll get punched in the face a lot, but I'm sure it'll be a great time either way.