The Last Car I Will Ever Own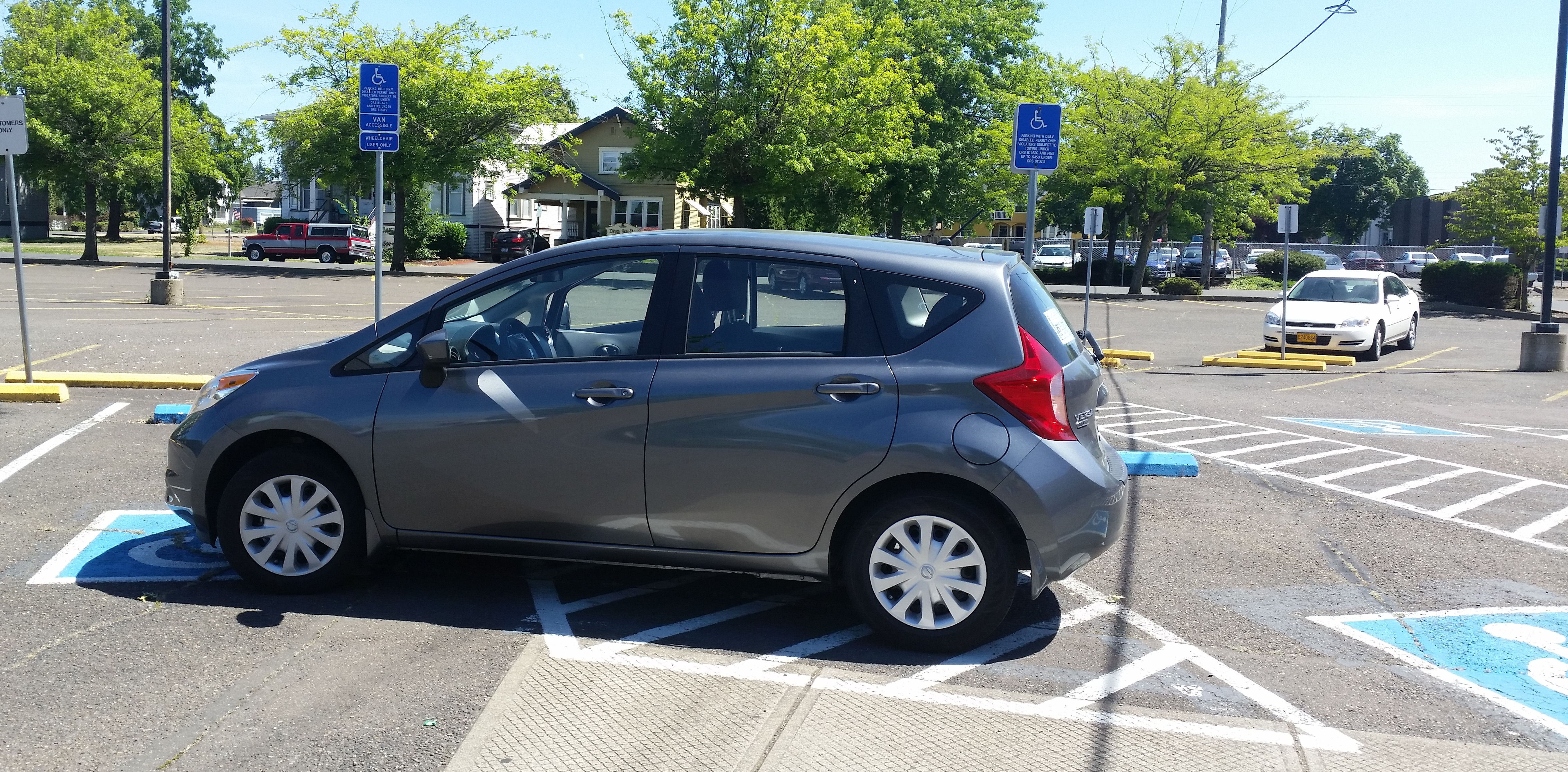 Pictured above is my new 2016 Nissan Versa, parked across a couple of handicap spaces because that's just the kind of guy I am.
A few weeks ago, Liana and I spent one hellish Saturday afternoon, looking at cars and dealing with some of the sketchiest car dealership employees ever. We finally left with the Nissan and a new car payment that I don't know how I'm going to afford, but it's an awesome car and I love it. It's very low-end and doesn't even have power locks or windows, but it's great to have a reliable car again. One that can go on extensive road trips, just like the good ole days, which I plan to do very soon. And, most importantly, it's got an Aux In jack. So long to listening to Spotify through a cassette tape adapter.
My 2000 Ford Focus has been a great car for the past 13 years, but its numerous problems and break downs were starting to add up, and it had 211,000 miles on it. I listed it on Craigslist for weeks, one week for $400 and the second week for $300, and nobody ever bought it. But less than 24 hours after painting "FOR SALE" on the back window, it was gone, purchased by a guy who plans to fix it up and use it for work. I let him have it for $280 since the gas tank was empty.
I bought the Focus in 2003, for the sole purpose of taking a cross-country trip from Illinois to South Dakota to hang out with The Spessas, which I did within a month of buying the car. Since then my Focus has taken me all over the country, on road trips by myself and with the kids, with friends and girlfriends, it's helped aid me in all kinds of wacky pranks and schemes, from Texas to New York to California and a bunch of other fun places, it's been a great car and has been mostly reliable. I will miss you, 2000 Ford Focus. Since I have the address of the guy I sold it to, I'm tempted to occasionally drive by and look longingly at my old friend. But I totally won't do that, because that would be creepy. Nope, not me.
Below is a video I made in 2014, demonstrating how easy it is to call oil change places and trick them into handing out my own personal information. Included in the video is every picture I could find of my Focus from my photo album. You'll see pictures from when I made a laptop mount in my front seat because GPS barely existed yet, you'll see how I turned the passenger seat into a desk for a few road trips, the Nova emblem that I drilled into the back of the car to confuse other drivers, the weird things we painted on my windows, the 1980's-era radio I installed after the first time a crackhead stole my nice stereo, and other miscellaneous photos of my old car from the past 13 years.
Why is the Nissan Versa the last car I will ever own? Because the entire world is on the verge of a buttload of changes to transportation and pretty much everything else. Semi-autonomous cars are already here if you can afford them, and fully autonomous cars will be here easily by 2020. Once the cars are working and the government regulations are laid out, things are going to change insanely quick. Elon Musk recently said that full autonomy will be ready within 2 years and the government will be ready for them in 3. And Elon knows what he's talking about since he plans to be selling 1,000,000 autonomous cars per year by 2020.
I've seriously hated being a slave to my car these past couple of decades. Sure I love owning a car, but only because that's been the only option for me. In the medium sized cities I've lived in, public transportation generally sucks. In a few short years, I'm going to be able to call for an autonomous car to pick me up from a cell phone app, to take me wherever I want to go, quickly and cheaply. Owning a car will become pointless and expensive. Even if full autonomy doesn't happen as fast as I'm sure it will, services like Uber and Lyft and all those car sharing companies are going to start showing up in medium sized towns. No matter how this all goes down, it's going to end with nobody needing to own a car.
About 4 years ago I wrote about how it sucked that I would never live through another revolution. I got to see the internet happen and I got to see the entire world end up with tiny super computers in their pockets, but I felt like that was it for me. I thought in another 10 years, all we're going to see is neater cell phones and faster internet. I had no idea this was coming and I'm incredibly excited for it.
Self-driving cars are going to change everything. I know most of you have heard it all by now, but they're going to save 30,000 or so lives per year because they will rarely crash, they're going to reduce air pollution, they'll require less roads and parking spaces and they'll let blind, disabled, and old people get around as easily as the rest of us. Insurance rates will plummet, cops won't be able to give you speeding tickets anymore, and car ownership will become a thing of the past. When I finally get rid of my Nissan Versa 10 years from now, there probably won't be a single incentive to trade it in for something new.
The world is going to be in a lot of trouble soon, and I'm excited for this. Besides self-driving cars stealing the jobs of taxi drivers and truck drivers, they will eventually cripple the auto industry. Imagine all the car dealerships in your town going out of business permanently. This is something I would love to see happen, after having to deal with those car dealership people a couple weeks ago. Sketchy car salesmen across the country will be out of jobs and will have to settle for mugging people in the park. All of the independent used car lots will disappear too. And then most of the service garages, oil change businesses, Auto Zones, and insurance companies. Cops won't be able to ticket people for speeding anymore, but that'll be good because everyone is going to lose their jobs.
And that'll just be the fallout from self-driving cars. Automation is going to blow up in a huge way soon, stealing the jobs of fast food and factory employees, and I'm sure plenty of other people. No, seriously, this is all about to happen. In our lifetimes, within the next 10 to 20 years. They've already figured out how to fully automate a fast food restaurant, basically turning a McDonalds into a building-sized vending machine. Pretty much every non-skilled job will be gone permanently. I'm sure we'll figure out a way to make all this work, but from the looks of where things are going, we're either headed for the next great depression or we're headed for an awesome utopia where machines do all the work and we just sit back and play on our fancy new cell phones all day.
These things are going to happen quickly and we're probably all doomed, but I absolutely love things that upset the status quo. The economy as we know it is incredibly bad for the Earth and I'm looking forward to seeing what happens next. The only thing I know for sure is that driving won't be necessary 10 years from now, and I'll be happy to never touch a steering wheel again.