Renovating an Old Store
Back in 1999, my wife and I opened up a business in Alton – a resale shop for baby/children's clothing, cribs, swings, etc. To save a little money in startup costs, I rented a storefront in horrible condition and got a discount on the monthly rent by agreeing to fix it up myself. Before we rented it, it was a liquor store. After that it was vacant for about a year. The shopping center and it's location was actually pretty nice – on one side of us was a beauty salon and on the other side was a kids dance studio and a video store/tanning salon. Our space was the only one in bad condition. This was a pretty fun project for me because it was my first time ever renovating a large space like this. Here's some pictures of how it all turned out.
| | |
| --- | --- |
| | |
| One of the corners in the front of the store. For some reason it was in horrible condition. | Kind of hard to see with the toy shelf in front of it, but it looks much better now. |
| | |
| Here's the walls while we were painting them. The yellow-green-white color scheme just didn't work for us. | And here it is all finished, complete with some of those creepy Anne Gedes baby pictures. |
| | |
| Here's the front of the store, taken from the back of the store. | The same view taken less than a year later. |
| | |
| Above is the bathroom. It was falling apart, there were tiles stacked up on the floor, the sink was falling off the wall and the room was filled with trash. | This is the new bathroom. |
| | |
| The front counter was decorated with football wallpaper and the top was covered in paint. | Stripping the paper off the front revealed a nice wooden finish. |
| | |
| This is the back hallway while I was still building the back room. | It's still pretty messy in this picture but it's done. |
| | |
| I've got part of a wall up for the back room. Ripped the carpet up and have done most of the painting. | Here it is pretty much finished. |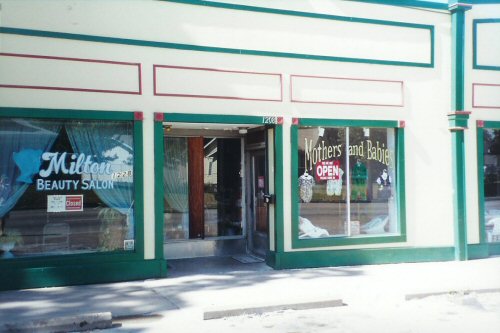 Here's the outside of the store. I did the window painting myself by printing out a slide projector sized image on transparent paper and shining it onto the window. I traced the image with crayons and then painted it on with window paints.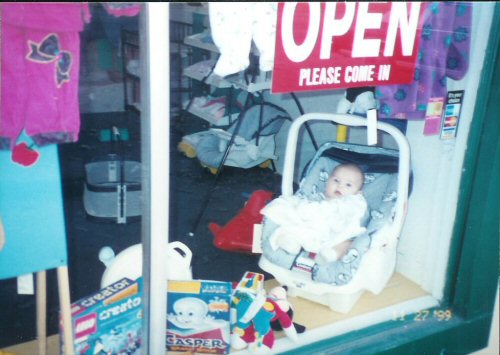 Here's my son Payton, just a few months old and testing out the baby carriers for us.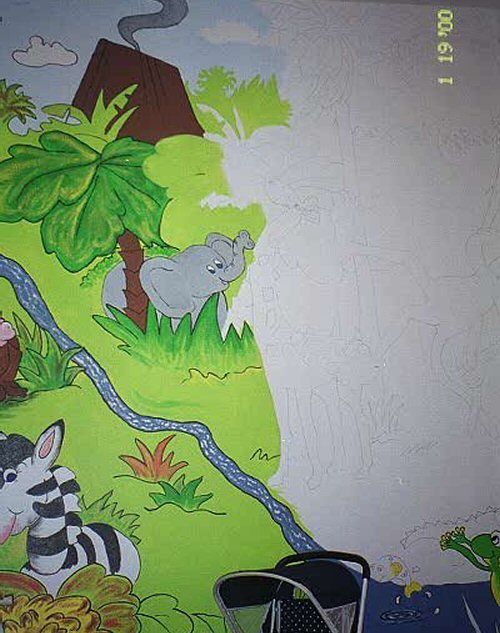 A friend painted a huge section of wall with this cartoon drawing. I couldn't find a picture of it completely finished but here's half of it at least.