Back from Idaho
Monday, April 11th, 2005: So I'm back in Illinois. I made the 2 day drive to Oregon, took the kids to Idaho and spent a week with them, went camping, geocaching and easter egg hunting. After the week was over, I took them back and then I spent another 2 weeks in Idaho with friends. It was only supposed to be a week but it turned into 2. On my drive back I got caught in a big snowstorm in Wyoming for a few hours. It was coming down so hard that I couldn't see out the window. The interstate was covered in snow and the wind kept blowing my car into the other lane. I drove 30 – 40 MPH on the interstate for over an hour. But just before I crossed the border into South Dakota, the snow completely went away and everything suddenly turned green and sunny. I got home Sunday morning around 11:15am after staying the night in a sleezy Kansas City motel that was surrounded by XXX shops.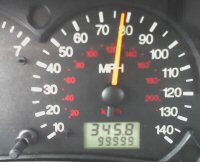 Nothing particularly interesting has happened in the past few weeks. Nothing I'd feel comfortable writing about in a public journal, anyway. But I did have a comical run-in with famous artist Ralph Steadman! You can read about that here. Oh yeah, my odometer hit 100,000 miles on the way there. That was such an exciting thing for me, I took a picture of it while driving 80 MPH down the interstate.
Today I went to breakfast at McDonald's with Jodi. Visited the post office 3 times today, getting Ebay stuff mailed out and checking my mail. I still have a big pile of stuff to go through. I had a lot of money orders waiting for me at home and at the P.O. box for button sales. Worked all day while trying to get all the Ebay stuff caught up. Went to Taco Bell for supper and watched 3'oclock High while I ate.