Week Review – San Francisco
So Tuesday I drove to San Francisco, which took about 8 or 9 hours. Jammie occasionally IMed me how many miles she had left to go from Los Angeles and it almost always managed to have the same numbers of miles to go that I did. Once she arrived, we took a taxi to see the fireworks.
Looking at a map, we decided a 25 block walk back to our hotel would be nice. We forgot that San Francisco is nothing but really steep hills. We quickly found out that 25 blocks would take all night so we called a cab. Taking a cab in San Francisco is like riding a roller coaster. Which I sort of enjoyed and Jammie didn't.
The next morning we woke up early, took back Jammie's rental car and then picked up CountyKid. Did random stuff all over San Francisco for the rest of the day. Dropped off my car at the hotel, took a cab to China town, walked to a pier. I don't even remember where all we went. Here's a few pictures from when we ended up in the Crazy Caps store: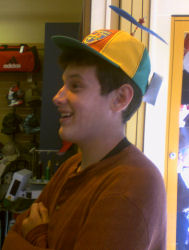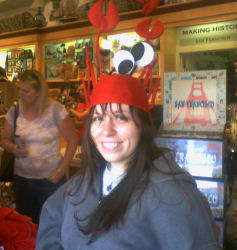 Countykid brought along about 100 fliers offering Free Cactus and explaining phonelosers.org so we started handing those out in all the tourist areas. Managed to get rid of all of them while making lots of tourists confused.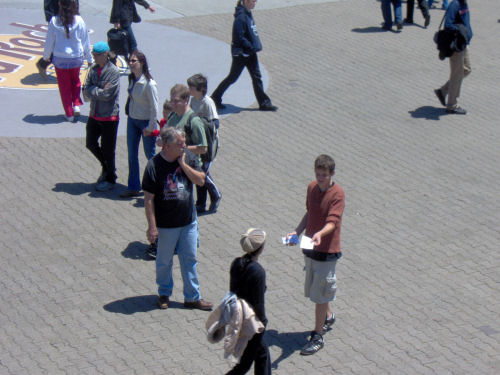 Eventually ended up back in our hotel room. While we were in Chinatown we bought 6 boxes of Pops. You know, those little white things that pop when you throw them on the ground. It was 100% Jammie's idea to buy these just so we could throw them at people on the sidewalk from our 8th story hotel room window. She likes to pretend she's innocent and never does anything wrong or illegal, but then she instigates stuff like this. Nate and I had lots of fun throwing Pops at the people below. We finally quit when too many people were looking up and noticing us.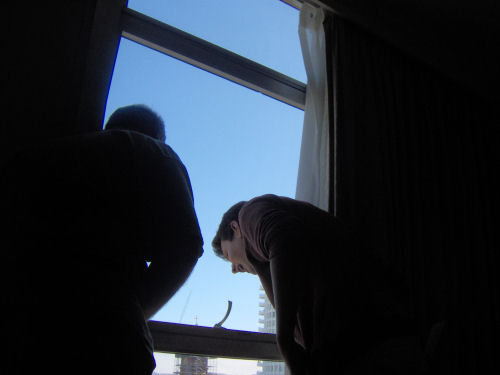 As CK & I were waiting for Jammie so we could leave, we were listening to the hotel frequencies on my scanner. We heard a voice say, "We need towels sent to room #612." I immediately called the hotel from my cell phone and asked for room 612. I told the man who answered that due to his reputation, we'd be charging him $29 per towel. He was very upset about this and asked why and I told him he KNEW why. It escalated and I finally told him I had to go because I had customers at the counter, then I hung up on him.
Soon after that we walked down 2 flights of stairs to the 6th floor so we could pass by his room and see if there was any action/fist fights. There wasn't but we passed by the man in the hall. I said hello to him to confirm his voice and then Jammie dawdled behind to see if he went into room 612.
Dropped CK off at a bus stop on Market Street and then drove to a place called Asia SF to meet LogicBox. A friend recommended Asia SF to us, which is some kind of transvestite bar/restaurant with lip syncing shows. We spent a few hours there, catching up with LogicBox before driving him home. I hadn't seen LogicBox since about 2000 and Jammie had never met him before. It's always bizarre that Jammie knows ALL of my online friends, usually better than I do. Yet Jammie and I have rarely spoke to each other these past 10 years. Anyway, was great to see LogicBox again. Here's a picture of us, along with one of the dancers looking like a mannequin.
Thursday we went to The Mystery Spot in Santa Cruz, CA. It's only of those places that claims to be built on top of a mysterious force that seems to bend time and space itself. Balls roll uphill, people lean in odd directions. It has nothing to do with the fact that the house is purposely built out of proportion and completely slants about 20 degrees. It was a fun place, though. Lots of neat optical tricks.
Next we went to a place that LogicBox recommended – The Winchester Mystery House. The tour lasted for an hour and was really interesting. This crazy old lady spent 38 years constantly adding rooms to her house to fool spirits. Must have been some really retarded spirits. Here is the story of the Winchester Mystery House. It'll be the strangest story you read all day.
Next we crossed San Francisco for the last time, crossed the Golden Gate Bridge and then visited the redwoods. Only stayed there for about 20 minutes, then attempted to find the interstate only to get lost in some very curvey mountains. Eventually found the interstate, drove for awhile and then found a Motel 6 for the night. Drove straight through the next morning and made it to my house around 3:30pm.
Yesterday I set up a photo album program on my website. It contains all of our San Francisco pictures. I'm probably going to start dumping all of my photos into it.
Yesterday we attempted to go blueberry picking in Corvallis. It's the 3rd time we've tried this year and they're always closed for some reason. So it's Saturday at 4pm and they must be open, right? Nope. The guy told us to come back on Monday. As we drove away, I rolled down my window and grabbed a handful of blueberrys. Then we went to another place and picked tons of raspberries. And Jammie was able to at least BUY some blueberries at that place.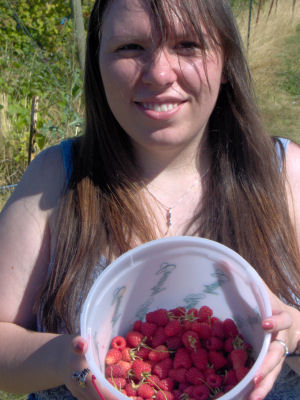 Last Monday I put out a new Big Beef Bueno. Go listen!