Penny Arcade Expo 2008 Aftermath
The kids and I drove to Idaho and spent a week there. We went to a theme park called Silverwood and Payton rode his first rollercoaster. Emily rode her first rollercoaster that went upsidedown. I rode my first rollercoasters since about 2000 or 2001. I need to do that more often, preferably during times of the year where lines to ride them aren't as long. Payton said he'll never ride another one, but I don't believe him. I got a great picture of him and I looking terrified, but I haven't scanned it into my photo album yet.
A few days later we went to see a movie. The Rocker. The night before, Mr. Spessa and I collected 20 – 30 moths from their porch light and spent a lot of time getting them all into 2 mason jars. We sat in the back row, right under the projection booth, and set them free. It wasn't quite as chaotic as we'd hoped, but there were a steady stream of giant moths on the screen throughout the movie. They were blurry moths and I was hoping for crisp, clear, black moths on the screen. I guess the window is just too close to the projector. And the billion candlepower light in the projector shines right through the moths. I'm not saying it sucked, but it wasn't as epic as I was hoping for.
About 1/4 of the way through the movie, the projectionist opened up the projection booth window and captured the moths that were just sitting on the window. So we got to see a giant hand on the screen for a few seconds, then the blurry moths disappeared. Some new moths appeared on the window later during the movie and moths occasionally flew around in front of the screen. Next time we hope to capture twice the number of moths. And also, capture them right before the movie instead of 24 hours before the movie, so they're more active.
After a week in Idaho, we drove to Seattle to attend PAX 2008. It's the first time we've ever attended it. The kids really enjoyed just hanging out in the wireless lounge and having hundreds of DS users to chat with and play games with. Had their pictures taken with lots of video game characters, many which we didn't even recognize. Payton was playing the newest Destroy All Humans game for awhile and suddenly the alien from the game comes up behind him and taps him on the shoulder. That was great.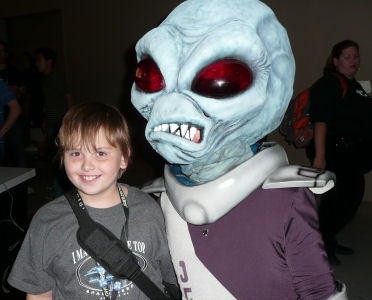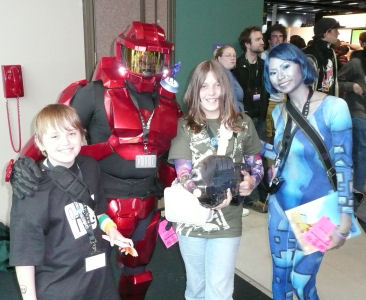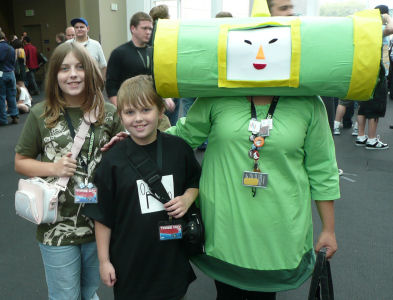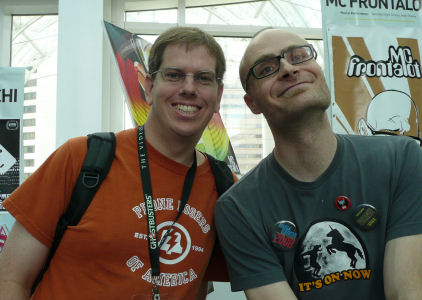 I met MC Frontalot and got my picture taken with him. That was awesome. Jonathan Coulton was there too but the line to talk to him was too long for me to want to stand in it. Wil Wheaton was at a booth too, and so was that red haired girl from Dr. Horrible and The Guild. We bought pointless t-shirts and picked up tons of free swag.
I brought PLA Flyers with me, hoping to leave them on a table somewhere for people to take. But I couldn't find any tables, so I just started handing them out to people as I passed them, saying "Free cactus" to them. (It was the flyer with the free cactus coupon on it.) Then the kids started passing them out to people and Payton was handing them to vendors and characters. He even waited in line for 15 minutes, just to hand MC Frontalot a flyer. The next day we passed the Jonathan Coulton table and I noticed a stack of PLA flyers sitting in the center of the table, right next to his other giveaway stuff. I told Payton and he says, "I know, I gave them to him." So I guess he left a bunch with him and they just left it on the table for the rest of the weekend.
After a day of going up to video game characters and asking if we can have pictures with them, I said to Payton, "Wouldn't it be funny to just go up to a normal guy and act like he's a celebrity and ask to have your picture taken with him?" Less than a minute later, Payton runs up to a random guy and tells him he's a huge fan and it was great to meet him. I bet it was the most bizarre thing that happened to him that weekend. He was nice enough to let us take a picture: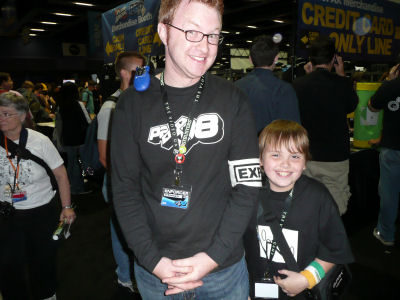 We also visited Archie Mcphee's again since the Spessas had never been there. Spessa ended up buying about 50 super balls for us to throw around the expo. We (Mr. Spessa and I) ended up taking them to a balcony on the 4th floor and dropping them all down into the lobby at once, as Spessa stayed below to watch. It was great. They were bouncing everywhere and hitting people. And then people started picking them up and continued to bounce them. We went to the lobby and started throwing them everywhere and surprisingly no convention center staff came over and told us to cut it out. No, we didn't take pictures of the balls falling so you just have to use your imagination.
We left Seattle Sunday afternoon and arrived back in Albany around 9:30pm.