Camera phone dump 2009
Today I plugged my phone into my laptop to sync some music and decided to delete/move some of the pictures while it was hooked up. Here's a few of my favorite grainy pictures. This first one is a smoke shop in Corvallis that I was walking by earlier this month.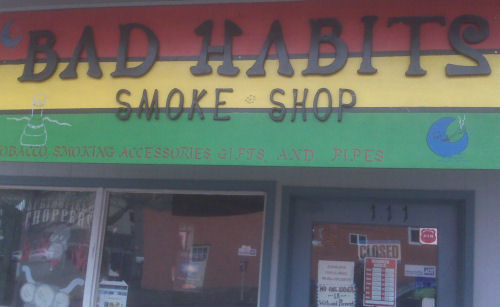 Here's my downstairs bathroom light fixture containing red green and blue lights. Only the blue light is more like a black light, so that throws the whole idea of turning RBG into white light out the window. But it still makes cool effects when you're peeing.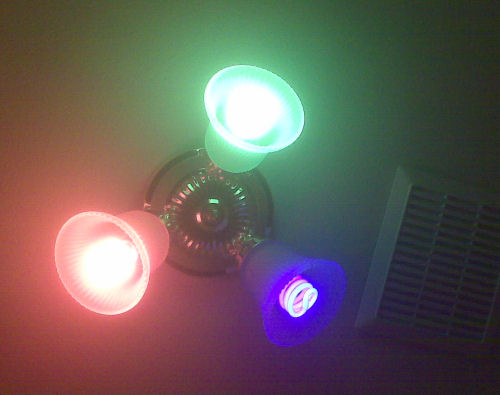 The kids and I were driving in Corvallis and noticed identical shoes coming out of both windows. Look closely and you'll see there's feet out the other back window too, but his shoes don't match. I don't think the driver had his feet up, but it's hard to see him.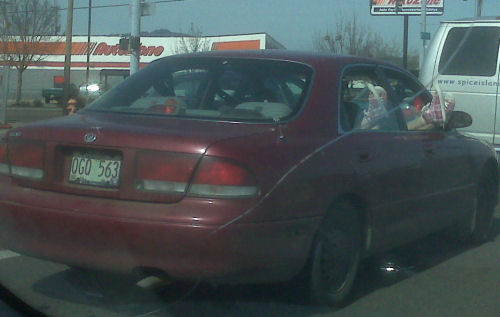 Here's a personalized plate we found at Albertsons. I'm wondering if the wife got it for him during a bitter divorce.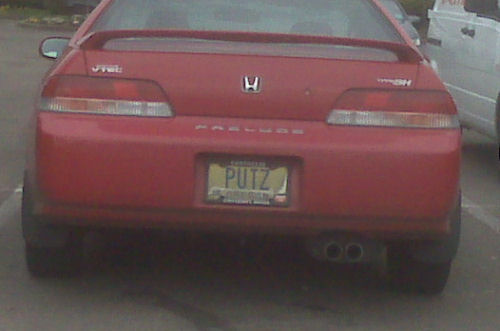 This one I took this one a couple days ago in Salem. I asked the guy getting in if I could snap a picture and he said sure and got out of the way for me. He was, as you'd expect, pretty weird.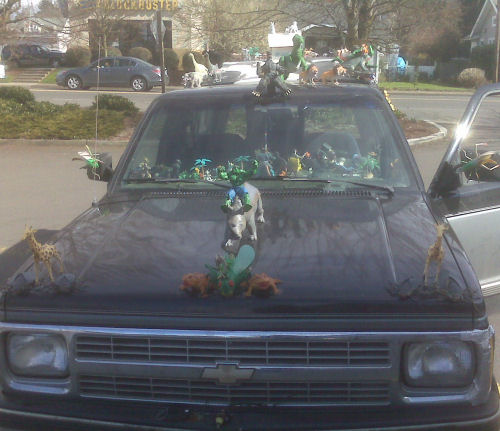 ---
I didn't do much this weekend. The kids weren't around, so I went to Salem to do some shopping and returning. Yesterday I vacuumed the house. Man, that was exciting. I had to dump the vacuum bin 5 times! On Saturday I got up at 5am to do a phone mob, which I turned into a PLA Radio yesterday. I only lasted 90 minutes into it, then went back to bed for a couple more hours. I watched Step Brothers which I didn't expect much from but ended up LOLing at a lot. I also watched an old 70's movie called Paper Moon which was really good. Oh yeah, Payton was here for a few hours on Saturday morning and we watched Stephen King's Christine together. I hadn't seen it in at least 10 years and it was fun to watch again. Payton liked it too. Geez, I watch too many movies.
A guy from an online "radio" station called Party 934 contacted me a few weeks ago about doing a weekly show on their station. He said I can do pretty much anything I want so I said sure and I'm doing an hour per week. They're licensed to play actual music and insist that I play at least 4 songs per hour. He says it's a terrestrial station too and goes out on 102.5 FM in the Hudson Valley in New York. I'm feeling a little skeptical on that part, though, since I can't find any records on that and last week when I did the show I couldn't get anyone to call in. It is the middle of the night there, though. From 2am to 3am.
I'm calling it The Phone Show since I'm sure whatever I do with the show will somehow involve phones. I set up a couple computers so that I can take calls on the air with it too, which seems to be working fairly well. (Thanks, Darin Abernathy, for helping me test!) And they gave me a really neat program made for broadcasting online stations. I guess tonight will be the first official show, since I've actually announced it on here and on phonelosers.org now. I haven't prepared a bit for it and I have no idea what I'm going to do on it. It can be listened to on party934.com Monday nights from 11pm PST to midnight. Which is 2am to 3am Tuesday mornings EST. What a horrible time to do a show! The official page for it is www.phonelosers.org/phoneshow but there's nothing on there yet.