Houses I've Lived At – Courtesy of Streetview
Last week I was using streetview to cruise through Galveston, admiring all the weird houses that I've always loved about that place. And I decided to travel the entire length of Avenue M to find some old house that I really wanted to move into back when I first moved there. At the time I was living on the couch of some Mexican guy named Edwin, who spoke no English at all, that I'd met through my job as a painter. It wasn't a bad place, but I really needed my own room so he'd stop waking me up each morning, singing along with Mexican MTV.
By this time I've met a few people who agree to be roommates with me, so I'm spending a lot of time looking at places to live since I seem to have the most free time. I find this one place on Avenue M which is 4 or 5 bedrooms for just $600/month. I go to the office that own it and they give me a key to it and tell me to go look at it by myself. How trusting! The first thing I noticed about it is that the window on the door is broken and the door is already unlocked. It's an awesome place, though. Huge rooms, really old decor, the floors are all going up/downhill and creek a lot, some of the rooms have these giant wooden doors that slide into the walls instead of opening, there's a balcony, lots of character and you get the feeling that a few people have been murdered there before. Later I take Tammy to see it and she agrees that it's awful, but awesome. I take pictures and show the other guy who'd be living with us and his flamboyant response is, "You want to live on Avenue M? M stands for murder!"
For some reason, I decide that I really want to go see that house again in the middle of the night. The front door is broken so I know I can get in. And even though I own a flash light, I decide that the best way to explore this house once more is by candlelight. What better way to explore a creepy old house in the middle of the night, right? I park a few blocks away and walk up to the house, reach in the broken window and turn the doorknob. Once inside, I light my candle and start leisurely wandering around, exploring each room on the first floor and discovering a new door in the kitchen that leads to a cellar. I wasn't brave enough to go down there. I eventually begin walking up the open staircase, long candlestick in hand, and as I get to the top steps I see some kind of movement down the hall.
I stop, trying to see what it is. I move my hand that's cupped around the flame to the other side, trying to shine light in that direction and I see a face peering from the bedroom door at the end of the hall. Holy crap! Neither of us say a word to each other and I slowly back down the stairs and then quickly leave the house. I bet this squatter was a lot more freaked out than I was, hearing someone creaking around downstairs and then coming up the stairs with a candle. Who uses candles???
Here's my old picture of the house and then the Streetview of it: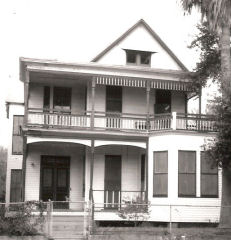 View Larger Map
I don't know why, but I was using black and white film during my first few months living in Galveston. It was a brown and yellow house, but appears to be much more colorful today. We didn't end up getting that house because we found a tiny one at 5517 Ave K instead, for just $300 per month. Finding that house on Streetview made me think it might be fun to find all the other places I've lived on Streetview. So I did. Well, most of them. I dumped out my box of old letters, postcards, Christmas cards, etc and noted the addresses that people wrote me at.
I found most of my old addresses this way. I have no idea what our address was on Avenue K, since I never got mail there. I also don't know Edwin's address or the addresses to the other houses in Galveston that I lived at. There was 3428 Cove View Blvd in Galveston, though.
View Larger Map
Brad Thompson lived there and I stayed with him for a night or two and he got me the painting job. I didn't get any letters there, but I found a pawn slip from 8/3/92 and a seat belt warning from 4/12/92 with that address on it. I ended up using his address to get my Texas drivers license when I moved there, so that address ended up being on a lot of paperwork over the next year.
Another address I found on an old ticket from the cops (10-10-91) was 1108 Ave O, Galveston, TX. Streetview says that doesn't exist, though, so I guess I lied to the officer. I couldn't make out what the ticket was for, but I guess that would have been shortly after I'd just moved to Galveston. I mostly got all my mail at PO Box 821, which was the big post office in Galveston on 25th Street. (Gina wrote me a letter at that address.)
My next move was to Myrtle Beach, SC, but "Myrtle Beach" didn't sound awesome enough for my new P.O. Box, so I got a box 10 miles away from where I lived and worked, which was PO Box 15993, Surfside Beach, SC 29587. Myrtle Beach is another place where I have no idea what my address was. It was a few blocks from the beach and I shared it with a varying number of other guys for the summer.
A library card from 1992 says I lived at 513 Van Buren in Normal, IL, but I guess that address isn't exactly right since Streetview can't find it. It was on the ISU campus in the Van Buren building, room #513 where me and Sylvia lived with Chris Tomkinson for a month or two. Soon after that, Sylvia and I moved to Los Angeles where we lived with Kristine on Romaine and Vine in Hollywood for awhile. I searched Romaine and couldn't recognize our old place, but here's a Streetview of the street.
View Larger Map
We were in there someplace. We also lived on Jumilla Ave in Canoga Park, CA, but that's another one where I don't have the exact address and I don't remember what the house looked like. It's only a block long, though.
A letter from Shonna shows that we lived at 1021 Broadway #4 in Highland, IL, but Highland hasn't gotten a visit from the Streetview gods yet so there's only an aerial view.
Next was Indianapolis, living alone in various places. A lot of the time I was homeless on the IUPUI campus, but there was a really cool giant house I lived in for awhile, though I have no idea what its address was. I lived on the 3rd floor with the mice and the roaches. I also spent a lot of time living at the Skyline Motel at 6617 E Washington Street:
View Larger Map
My permanent address here was PO Box 441403, Indianapolis, IN 46244, which I found on a letter to me from Kristine. The letter was addressed to Alex Carbon, the name I was living and working under during my entire time in Indianapolis. (On the lam from Madison County authorities.)
From Indiana, I retired to the small community of Celina, Ohio, where I lived at 129 1/2 W Fayette where I received a letter from Martini.
Ohio was next. I lived in an area of Cincinnati called St. Johns in a tiny apartment above some businesses. A collections letter from MCI Telecommunications tells me that the address was 6004 Vine Street, Apt. #3C, Cincinnati, Ohio, and that I owe them $216.75 OR ELSE!
View Larger Map
I used to walk down the street to use the pay phone that was several blocks away, in front of a church. There was a pay phone closer to me, but it wasn't in front of a church with a giant rotary dial on the front of the building.
View Larger Map
I spent some time living with Colleen on 161st and SE Stark in Portland:
View Larger Map
I also lived at the Jack London Hotel which some website claims is at 415 SW Alder St in downtown Portland. Doesn't look familiar to me, though. Probably cause they appear to have cleaned that area up.
View Larger Map
I lived in that house, which was at 5225 NE Wyngat in Portland, shown by a letter addressed to my new name Alex Kelley. It was a really nice house where I had 3 roommates. The lady who owned the place stupidly left all of her stuff there and the 19-year-old girl who rented one of the rooms stole a ton of it while she lived there. Her and her friends went through the garage and all the closets, taking everything that they wanted. Luckily she stayed out of my room when I was gone since there was no lock on my door.
I had post office boxes all over Portland too, for mine and Colleen's various mail order scams and credit card fraud. There was the PO box at 950 Lloyd Center #62, but the one we used the most was 2000 N East 42nd, Suite 128, which was in the Hollywood area of Portland.
View Larger Map
I had at least 4 different post office boxes while in Portland for all our crazy scams. I had an apartment with a girl named Lisa too, but then she bailed out on it after we'd already paid the first month's rent because she couldn't handle a few roaches living with us.
I used the address 213 Congress #314 in Austin, TX 78701 with mail being addressed to me in the names Chris Tomkinson and Alex Kelly. I lived in a very strange place in Austin which was underneath a skating rink, but don't remember the address or the area it was in.
Next is 810 Morgan #4 in Corpus Christi, Texas:
View Larger Map
This place featured the live entertainment of the guy next door screaming at and beating his wife often!
A letter from Kristine shows me next living at 825 Ermine Avenue SE in Albany, Oregon. I love how she always went with the flow of writing to whatever name I happened to be using at the time. It was Alex Carter at this address.
View Larger Map
Colleen and I next lived at 1013 Kingswood Court in Celina, Ohio, but there is no Streetview there.
1.5 years later we moved to Illinois, where we immediately set up P.O. Box 483 in East Alton, IL before moving to 3504 Meridocia Street in Alton, IL for the next 7 or 8 years. (Not much Streetview in Alton yet.)
Below is 805 Elm Street SW in Albany, Oregon:
View Larger Map
I recently spent a full 2 years living there, but moved just last year. It was cool having my front door open onto a city sidewalk, but not so cool having people walk by as they talked loudly at all hours of the night.
Only the back side of my newest domicile is on Streetview, but it's probably best not to post it so all you weirdos don't start sending me pizzas and taxis.