Christmas and Yelp
Merry Christmas! At 6:30am, I heard Payton's alarm clock go off and then he turned it off. I thought he was going to wake us all up, but he went back to sleep and Emily woke me up at 8am instead. I got a new digital camera and a popcorn popper. I think I'm going to buy myself a griddle to cook pancakes on too this weekend. My kids got lots of video games, Snuggies (as a joke!), Legos and other miscellaneous things. I got my cat a remote controlled helicopter.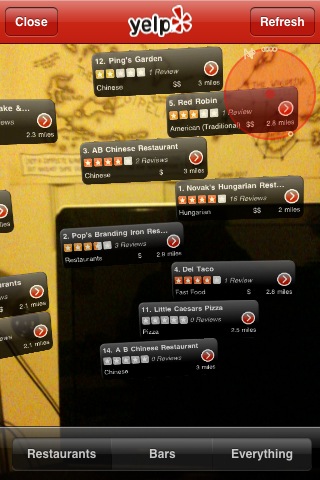 This is a picture of Yelp running on my iPhone, pointed in the direction of Albany so that it shows me a few restaurants and other businesses down the road. It's a really neat application that shows you user-submitted reviews of businesses, parks and anything else. It'll come in really handy when we're walking around big cities and need to find our way to places. For that kind of thing it's a much better application than regular maps, mainly because you can point your camera at a group of buildings and it labels them all for you. And the reviews are a great way to have an idea of what you're getting yourself into or to watch for hilarity in certain employees.
Of course I've started using it to make crazy reviews of my own on places all over town. My profile is at rbcp.yelp.com where you'll find reviews that I've done on Target, Arby's, the post office and other places. I'm really loving Yelp and I hope they don't kick me off for being too bizarre since most of my reviews are mostly honest. I plan to take pictures and review as many businesses as I can.
My BFF Spessa is doing equally hilarious reviews, which you can read at spessa.yelp.com. In her reviews you can learn about how to steal chips at Subway and that Petco employees are creeped out when you ask them to figure out the gender of hamsters.
In other exciting news, I started watching Lost this week. I was browsing around on Hulu and nothing looked interesting, so I decided to give Lost a try. So far I've watched the first 8 episodes of season 1. Even though I enjoy the show, I doubt I'll keep watching after season 1 because there's just too much to watch and I don't have time for it. Great show though!