Bi-Yearly Update
I got pulled over a couple weeks ago for running a stop sign. On a bike. Yes, on a bike. It was one of those streets that rarely has any cars on it, where I just kind of look both ways and keep going. The cop pulled me over and ran my license. He was really nice about the whole thing and we chatted for a bit, but still kind of weird. He was probably just making sure I wasn't a tweaker or something. I've seen in the local police logs where they've pulled over bikes and they had tools and stolen car stereos in their back packs, so maybe I just look like THAT kind of guy.
I don't think I've had an actual ticket since 1997 when I was pulled over for doing 31 in a 25 in Celina, Ohio. I've been pulled over 4 or 5 times since then, but I always get warnings instead of tickets. Never speeding really pays off.
I found out this week that my nick appears in a short scene on the new TV show called Mr. Robot. I watched the pilot of this months ago on YouTube and it seemed like an interesting show. The second episode, which I haven't seen yet, shows an IRC chat room and one of the chat names in room is RBCP. I guess that COULD have been a coincidence, just a random 4 letters, but it's also possible some guy on the staff of the show stuck it in there. I'm sure they have actual hackers working on the show that know of PLA.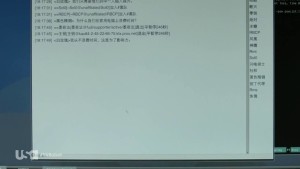 So that's weird thing #2 that's happened to me in the past few days. Here's the post on the 2600 Facebook, where I originally saw it.